About Us
Distinguished for our sophisticated and chic designs we are committed to creating show stopping displays and gifts that excites the eye and stimulates the senses.
We always aim to exceed your expectations with all your flower requests.
Our story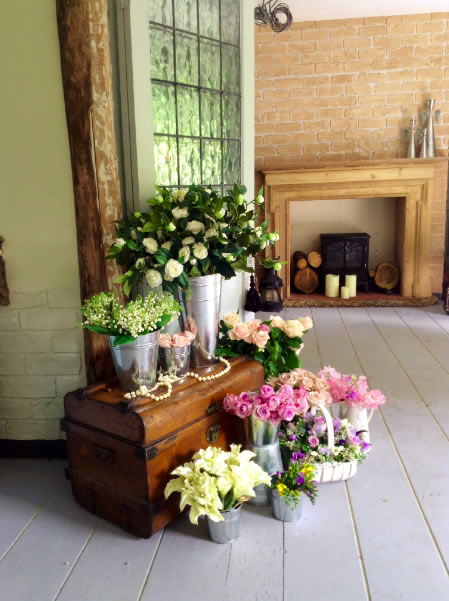 Gillian is the creative and dynamic force behind The Floral Art Studio
Having 35 years experience in the floral design industry starting out as a cold room cleaner and dogs body as a Saturday girl and after school in a London florist at the age of 13, Mossing hundreds of wreaths and posies at Christmas in the freezing cold, to conditioning and cutting thousands of roses for summer weddings.
The famous Selfridges store offered her a 3 year apprenticeship when she turned 16 giving her the chance to attend college and work in the prestigious store alongside cutting edge outstanding floral designers. After completing the three years she went on to work for a renownd floral artist in Pimlico London involved with designing and arranging flowers for Royalty, A list celebrities for major weddings and events.
Gaining more and more passion over the years for the vast floral colours, textures, heady scents and exquisite flowers leaving no boundaries to her creativity she set up a small florist in Ealing west London and in a short while she had achieved major clients and contracts including Heinz, Glaxo smith, Ealing film studios designing flowers for morning TV sets, music videos and various upscale parties and events alongside weekly corporate office designs for many other famous branded companies.
After many years of successful business Gillian took a more relaxed approach to floristry whilst bringing up her 2 children, moving to the East coast but still unable to keep herself away from flowers worked full time specialising in wedding floristry and commercial gifts for Colchester florist.
Whilst here she often heard from customers how they would love to learn how to make their beautiful flowers they had received, look amazing in their vases at home regularly giving hints and tips to all that asked.
Gillian held a few (wine fuelled) fun evenings with friends and nibbles teaching them how to make small simple designs, realising how much enjoyment these evenings were she was encouraged by her partner Alan and good friends to share her flower knowledge and unique creative passion with all other flower lovers.
The birth of the floral art studio
Alan found the perfect location in a large wooded area next to an 18th century village inn, in the picturesque village of little Bromley.
He hand built the summer lodge style studio Gillian had only dreamed of. Wanting to incorporate as many natural sources as possible he used copious amounts of blackened barn wood to blend in with the rural landscape 100ft of immense reclaimed shipping rope adorns a 50ft decked veranda making it captivating against the wooded background. Squirrels and bunnies being daily inquisitive quests.

The enchanting interior has a main feature of a large white tree built from reclaimed oak with crawling branches sweeping cross the ceiling adorned with crystal and glass ornaments that glisten in the sunlight casting an array of colours across the light and airy room, artistically place reclaimed oak and drift wood bring a feeling of rustic elegance along with the endearing wooden open fireplace complete with ornamental stags heads conveys masculine charm to the flower adorned room.
Having such a long history in the flower industry has given us the opportunity to build friendships and gain trust with many flower growers and Dutch importers allowing us to be completely confident and proud of the quality and freshness of all our flowers and plants we obtain for our customers and clients.
Located only 5 miles from the main port that EVERY Dutch flower importer uses we have the benefit of having the choice of the freshest and best flowers EVERY day before the rest of the country is even awake.